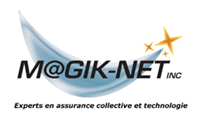 Drummondville, August 22, 2018 – UL Mutual is proud to announce its acquisition of M@gik-Net Inc., which provides a comprehensive management platform for all players involved in the group insurance industry. M@gik-Net and its employees will continue to operate entirely autonomously from its Rimouski headquarters, with UL Mutual acting as its strategic and financial partner.
M@gik-Net has specialized in the field of group insurance management software for 20 years. It customers include several major Quebec firms that manage a portfolio of more than 5,000 companies, for a business volume of $350 million in group insurance premiums. M@gik-Net designs solutions that encompass insurers, firms, plan administrators, advisors, employers and plan members in one easy-to-use, efficient technological environment. The solutions make it possible to efficiently manage all operations related to group insurance plans, including sales, plan administration and benefit management.
The partnership between UL Mutual and M@gik-Net happened organically. "Both companies share the same values and vision. I am certain that UL Mutual will help us develop further client and user solutions for the Canadian market," said M@gik-Net founder Serge Tremblay, who will remain involved throughout the transition period. M@gik-Net will continue to operate completely independently, with UL Mutual acting as its strategic and financial partner. "For us, the most important aspect of this transaction is to continue to offer the same excellent service that M@gik-Net's reputation was built on, and we are very happy that we can rely on our existing strong, devoted team," said UL Mutual's CEO, Christian Mercier.
The acquisition will allow UL Mutual to fast-track its development and transform its own management system. For its part, M@gik-Net is securing its longevity and growth to answer the increasing and evolving needs of the group insurance world.
M@gik-Net's existing clients can expect the same professional service as always and continue to use the management platform without interruptions. Any firms in search of solutions are welcome to contact M@gik-Net directly at 1 844 323-8196 to learn more about its services.
About UL Mutual
Founded in 1889, UL Mutual is one of Canada's oldest insurance companies. Benefiting from assets that have been growing for more than 25 years, UL Mutual is recognized in the insurance and financial services market for its financial strength and exceptional customer service. It offers a range of individual and critical illness insurance, group insurance, and investment and retirement products. The company, headquartered in Drummondville, employs 160 people. It serves the Canadian market, particularly Quebec and Ontario.
About M@gik-Net Inc.
M@gik-Net Inc. has been working in the IT world for nearly 20 years. Thanks to its premium and payment management software, it has become a leader in Quebec's group insurance market. Over the years, it has developed an expertise in data centre management, with over 200 servers for client support, and in information outsourcing for several SMEs in Quebec. It also has a strong team of technical experts.
For more information 
Marilyn Baril
Communication Advisor
UL Mutual
1-819-478-1315, ext. 2541
mbaril@uvmutuelle.ca